Cloud 9 Defines a State of Perfect Happiness...
We want you, as well as your baby, to be on cloud 9 with the look and feel of your Cloud 9 Baby Bedroom. Our philosophy is built into the pricing of our nursery furniture sets where we strive to offer unbeatable value for money which leads to many happy Mum's and Dad's-to-be. Just keep scrolling to read our testimonials...
Our Nursery Furniture Bundles
We have a range of cots to choose from to suit your style... a classic style Sleigh Cot or Royal Cot, a simple style Two Tone Cot, Traditional Cot, or a Modern Cot in white or raw timber, a Cotemporary Cot and a more uniquely designed Heritage Cot. All of our cots are convertible with two mattress base positions (high for newborns and low for older babies). These cots come with either a dropside front rail - or fixed sides if preferred, they all have a removable front rail for use as a junior bed - and come with or without a toddler rail. You can compare the features of our cots in our comprehensive descriptions found on every product page. All of our cots pair beautifully with our range of matching chests as well as bassinets, cradles, toy boxes and shelves...
Wholesale prices on nursery furniture sets from our matching range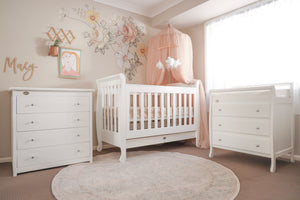 5 in 1 Sleigh Cot with Chest and Change Table
Sale price Price $1,200.00 Regular price $1,986.00
Tax included
Shipping
calculated at checkout.
"This is absolutely the best baby furniture company out there. I live overseas and wanted to buy my daughter and our future grandson a baby bedroom package. Communication was 100%. She now has her furniture and couldn't be happier".
"Cloud 9 is amazing. The service was good - they went through the do's and how's to put my crib and drawers together so I don't get it scratched or marked. For what I paid, it was so cheap compared to other sites that I looked at. So happy I found Cloud 9."
"I cannot recommend Cloud 9 highly enough. Cloud 9 have gone above and beyond to help me. I've purchased a cradle for a young lady and her husband who I consider to be my family and I forgot to arrange the delivery. One phone call and the error on my part was corrected - thank you for the perfect customer service."
Clouds Symbolize Communication, Computing and Everything Internet...
Remember the old speech bubble? Despite running our business online in today's fast-paced, internet-driven world, we also want to provide you with good old-fashioned service options. You can email us, text us, or message us through social media, or you can call us in our office hours on Monday to Friday between 9am and 4pm - if you would prefer to talk to someone! We will also keep you posted about our upcoming sales and events when you follow us on Facebook and Instagram... 
Enquiries
Is there something you'd like to know more about? Or just needing a bit of clarification? Just ask us! You can send a message to us here and our office staff will get back to you in our office hours - between 9am and 4pm Monday to Friday...
Message Us