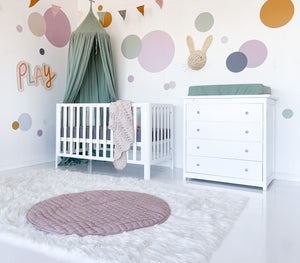 Modern Cot with Chest
Sale price Price $720.00 Regular price $1,100.00
Tax included
Shipping
calculated at checkout.
Modern Set with Chest
This furniture combination includes the modern cot and matching chest of drawers with the option to add an innerspring cot mattress and U-shaped change mat.
PRODUCT DETAILS
PRODUCT AVAILABILITY
We aim to dispatch within 2 weeks.
COT AND MATTRESS
The modern cot is a sleek contemporary design for practical parents with a smaller space or a minimalist style. The design of this cot is simple consisting of a high mattress base position for your newborn and a lower mattress base position for your older baby up to the toddler years. The cot can be purchased with or without an innerspring cot mattress by using the drop down menu. The orthopaedic mattress is comfortable yet firm to provide the ideal sleep surface for your baby. In conjunction with the chest of drawers which doubles as a change table, you will have everything you need to create a modern and stylish nursery at an affordable price.
CHEST OF DRAWERS
The chest of drawers serves primarily as a storage unit however, the unit has also been designed for use as a change table with subtly raised timber edging around the top of the chest that holds the U-shaped change mat firmly in place. The chest of drawers has metal runners for smooth opening and closing action. Unlike any other chest, this one is designed specifically for little ones - with very smooth and rounded edges to maximise safety in their bedroom whilst unsupervised. This design feature becomes more relevant when your baby grows into an accident-prone toddler and child. 
PRODUCT SPECIFICATIONS
SAFETY FEATURES
- Meets Australian and New Zealand Mandatory Safety Standards (AS/NZS 2172)
- Mattress provides the recommended 'firm sleep surface' for baby's safety
- Smooth and rounded baby/toddler-friendly corners and edges on all furniture
- Non-toxic paint, varnish and finishes used on all furniture
MADE FROM
- Furniture constructed from clear grade NZ plantation pine
- Drawer interiors and shelves constructed from LVL and hardboard (not chipboard) which are high strength wood products used for structural applications such as bearing weight (where a thin timber panel would crack). This material is often used on the inside of modern kitchen cabinets
COLOUR
- The exterior of the unit is crisp white - not off-white, or pearly, or cream
- Because drawer interiors are made from a different material, they are a different shade compared to the crisp white painted timber on the outside of the unit
BRAND
- Cloud 9 Baby Bedrooms
ASSEMBLED DIMENSIONS
- Cot Dimensions: Size (W-134cm X D-74cm X H-82cm) and Weight (19kg)
- Mattress Dimensions: Size (L-130cm X W-69cm X H/D-10cm)
- High (Newborn) Mattress Setting: 50cm from ground
- Low (Older Baby) Mattress Setting: 40cm from ground. Please ensure you lower the mattress base 'before' baby is sitting to avoid fall hazards    
- Chest Dimensions: Size (W-88cm X D-64cm X H-90cm) and Weight (47kgs)
- Four generous sized drawers (interior measurements: L-70cm X W-49cm X H/D-14cm)
- Change Mat Dimensions: (L-75cm X W-50cm X D-10cm)
ASSEMBLY REQUIRED
- Yes
FLAT PACK DIMENSIONS
- Cot Box Dimensions: Size (L-135cm X W-81cm X D-18cm) and Weight (22kg)
- Mattress Box Dimensions: Size (L-130cm X W-69cm X D-10cm) and Weight (7.6kg)
- Chest Box 1 Dimensions: Size (L-97cm X W-83cm X D-15.5cm) and Weight (25kg)
- Chest Box 2 Dimensions: Size (L-81cm X W-58cm X D-12.5cm) and Weight (22kg)
- Change Mat Box Dimensions: Size (L-75cm X W-50cm X D-10cm) and Weight (1kg)
WEIGHT LIMIT
- Up to 40kgs
SHIPPING
Enter your details at the checkout to get your shipping quote. Your shipping quote is based on the number of flat packs in your order, as well as their size and weight, and the distance they are travelling from our distribution centre to your address.
WARRANTY
This package comes with a 12-month warranty. For more details about our warranty, visit our Conditions of Warranty page and please read our Terms and Conditions at the checkout.
RETURNS & REFUNDS
For information about returns, exchanges and refunds, visit our Returns Policy page.
ANY OTHER QUESTIONS?
- Visit our FAQ'S page to find information about questions that we commonly hear
- You can also email us for service@cloud9babybedrooms.com.au or through our Enquiries page