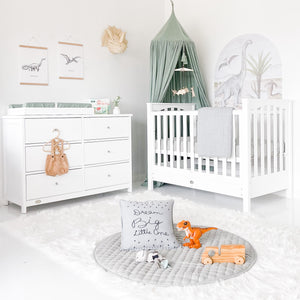 Traditional Cot with 6 Drawer Chest
Sale price Price $1,290.00 Regular price $1,810.00
Tax included
Shipping
calculated at checkout.
Traditional Cot and 6 Drawer Chest Set
This furniture combination includes the traditional cot and matching chest of 6 drawers with the option to add an innerspring cot mattress and change mat with timber frame for use on the chest top.
PRODUCT DETAILS
PRODUCT AVAILABILITY
We aim to dispatch within 2 weeks.
COT AND MATTRESS
The traditional cot has a charming vintage style with the functionality of modern day times. The traditional cot functionality includes: (1) high base position (newborn); (2) low base position (baby to toddler); (3) slide out trundle drawer (large storage space for blankets/linen); (4) bonus toddler rail kit included (toddler to junior) with removable drop side (for use as a daybed or playroom lounge when the toddler rail is no longer required); (5) the traditional cot also possesses a drop side mechanism for lowering the front rail. Please refer to the product images to see all of these cot positions.

The design of this baby cot makes caring for your newborn as easy as possible on your recovering body after birth, particularly after a caesarean section, or traumatic birth. The high mattress base position used in conjunction with the drop side rail eliminates the need to bend or reach into the cot to lift or lower your baby. It is also designed this way to reduce repetitive strain on exhausted Mums' when bub requires settling for long periods of time. The cot can be purchased with or without an innerspring cot mattress by using the drop down menu. The orthopaedic mattress is comfortable yet firm to provide the ideal sleep surface for your baby.
CHEST OF 6 DRAWERS
The chest of 6 drawers is a solid, heavy-set timber construction with feet designed to match our modern range of cots. The chest is very strong and sturdy and does not wobble or move at all. Unlike regular chests, this one is designed specifically for little ones - with very smooth and rounded edges to maximise safety in their bedroom. This design feature becomes more relevant when your baby grows into an accident-prone toddler and child.
If nursery space and/or storage is an issue for you, this chest of 6 drawers is ideal as it is designed to safely function as a change table also (at approx 1m high) with the option to purchase a custom fitting change mat with a timber frame. The change top frame can be attached to the back of the chest top with the hardware provided, to hold your change mat firmly and safely in place. The chest can be purchased with or without the change mat and timber frame by using the drop down menu.
The U-shaped change mat is a custom fitting design for our furniture range. The high-density foam makes the U-shaped change mat soft and comfortable, while at the same time firm and durable. The hospital grade vinyl exterior makes for easy cleaning.
SAFETY FEATURES
- Manufactured to meet the Australian and New Zealand Mandatory Safety Standards (AS/NZS 2172)
- Toddler rail included for junior bed
- Smooth and rounded baby/toddler-friendly corners and edges on all furniture
- Non-toxic paint, varnish and finishes used on all furniture
- U-shaped change mat with timber change mat frame is designed to reduce the likelihood of falls when using your chest of drawers as a change table (please note you should always keep one hand on your baby at change time - this applies to any change table)
MADE FROM
- Furniture constructed from clear grade NZ plantation pine
COLOUR OPTIONS
- White
BRAND
Currently selling as Quirky Bubba brand - this stock will be phased out and later rebranded with our Cloud 9 badge. We can provide a Cloud 9 badge which is interchangeable with the Quirky Bubba badge on request.
ASSEMBLED DIMENSIONS
- Cot Dimensions: Size (L-137cm X W-80cm X H-102cm) and Weight (35kg)
- Mattress Dimensions: Size (L-130cm X W-69cm X D-10cm to no greater than 12cm)
- Floor to Front Rail Top when raised: cm
- Floor Front Rail Top when lowered: cm
- Trundle Drawer Dimensions: Size (L- cm X W- cm X D- cm) 
- Mattress Dimensions: Size (L-130cm X W-69cm X D-10-12cm) and Weight (7.6kg)
- High (Newborn) Mattress Setting: cm from ground
- Low (Older Baby) Mattress Setting: cm from ground. Please ensure you lower the mattress base 'before' baby is sitting to avoid fall hazards
- Chest Dimensions: Size (W-128cm X D-51cm X H-90cm) and Weight (45kgs)
- Six equal sized drawers (inside measurements: L-53cm X W-38cm X H/D-20cm)
- Timber Change Mat Frame for Chest Top: Size (W-74cm X D-46cm X H-9cm)
- Change Mat Dimensions: Size (L-70cm X W-41cm X D-10cm) and Weight (1kg)
ASSEMBLY INSTRUCTIONS
Traditional Cot Assembly Instructions
6 Drawer Chest Assembly Instructions
FLAT PACK DIMENSIONS
- Cot Box 1 Dimensions: Size (L-112cm X W-90cm X D-18cm) and Weight (18.5kg)
- Cot Box 2 Dimensions: Size (L-137cm X W-79cm X D-17cm) and Weight (26kg) 
- Mattress Box: Size (L-130cm X W-69cm X D-10-12cm) and Weight (7.6kg)
- Chest Box 1 Dimensions: Size (L-93cm X W-59cm X D-27cm) and Weight (27kg)
- Chest Box 2 Dimensions: Size (L-136cm X W-61cm X D-14cm) and Weight (26kg)
- Change Mat and Frame Box: Size (L-78cm X W-56cm X D-15cm) and Weight (5kg)
WEIGHT LIMIT
- Up to 40kgs
SHIPPING
Enter your details at the checkout to get your shipping quote. Your shipping quote is based on the number of flat packs in your order, as well as their size and weight, and the distance they are travelling from our distribution centre to your address.
WARRANTY
This package comes with a 12-month warranty. For more details about our warranty, visit our Conditions of Warranty page and please read our Terms and Conditions at the checkout.
RETURNS & REFUNDS
For information about returns, exchanges and refunds, visit our Returns Policy page.
ANY OTHER QUESTIONS?
- Visit our FAQ'S page to find information about questions that we commonly hear
- You can also email us for service@cloud9babybedrooms.com.au or through our Enquiries page